FONDLY, COLETTE RICHLAND
by Sibyl Kempson
created and performed by Elevator Repair Service
directed John Collins
At New York Theatre Workshop, September 11, 2015 - October, 18, 2015, Opening September 28.
NYTW's Obie and Lortel award-winning company-in-residence Elevator Repair Service (The Sound and the Fury, The Select, Gatz) crosses theatrical boundaries once again with the remarkable world premiere play FONDLY, COLLETTE RICHLAND by Sibyl Kempson. This visionary company breaks new ground in its first collaboration with a living playwright - an NYTW Usual Suspect with a singularly inventive new voice. Kempson creates an imaginative world brought to life by ERS's unforgettable ensemble of actors under the direction of ERS Artistic Director John Collins. When Mr. and Mrs. "Fritz" Fitzhubert are summoned through a wee little secret door in their living room, they enter into a phantasmagorical world of Alpen hotels, mysterious employees, perilous hikes, and ancient deities, that will leave their lives forever altered.
---
NEWS:
September 2, 2015: The Wild and Woolly Worlds of Playwright Sibyl Kempson —American Theatre >>
If you're unfamiliar with the work of playwright Sibyl Kempson, it would be useful to define it at the start. Trouble is, Kempson's work tends to defy categorization, genre, or any standard methods of description. "There is no way to put her into any existing category," says Antje Oegel, coeditor of 53rd State Press and Kempson's agent. "I believe she is a category of her own—to quote Frank Hentschker, 'There is post-symbolism, or Sibylism,' and we will soon put artists into her category."
September 4, 2015: 'Fondly, Collette Richland' Emerges From Collaboration of Wacky and Weird —Alexis Soloski, The New York Times >>
When the playwright Sibyl Kempson brought a very rough draft of a new script, "Fondly, Collette Richland," to the theater company Elevator Repair Service, it didn't look much like a play.... "It was pretty nuts," Ms. Kempson said. "It was kind of incomprehensible."
---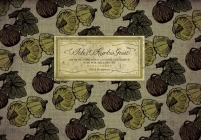 $20.00
ISBN: 9780985757717
Availability: Hard to Find
Published: 53rd State Press - June 25th, 2013
---

$14.00
ISBN: 9780981753362
Availability: Usually Ships in 1-5 Days
Published: 53rd State Press - June 25th, 2013
---

$16.00
ISBN: 9780989739351
Availability: Special Order
Published: 53rd State Press - December 29th, 2015
---